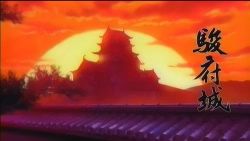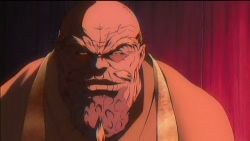 So now that I've seen the sub, I'm gonna do an amended writeup for this episode.

As previously stated, this episode takes place at Sunpu Castle where the group of leaders evaluate the status of the battles between the Iga and Kouga. It's a recap episode of sorts, with some new stuff thrown in.
Kyouhachirou Hattori recounts the battles he's seen with his own eyes. It's obviously that at this point in the game the Iga are in better shape. And I finally get an explanation for the scenes with the children and the angry ladies!
Apparently there is a conflict between the second Shogun, Hidetada's, heirs – Kunichiyo and Takechiyo.
Takechiyo's nanny, Ofuku, and his brother Kunichiyo's attendants have gotten carried away with their desire to have their particular charge come into power. (So, they're not mothers at all! See what happens when you watch raws and don't know a lick of Japanese?) Anyway, apparently things got taken so far that someone even tried to poison Takechiyo's medicated bath, but Ofuki sucked the poison out before it could kill him.
Soooo, things are getting pretty crazy in Edo.
Then word is brought to the council at Sunpu of the deaths of Yashamaru and Okoi. They also find out that the Kouga know about the broken peace treaty and of Gennosuke's fight with Koshiro. Seven Iga remain. Five Kouga. And things are only gonna get more intense.
Bring it on!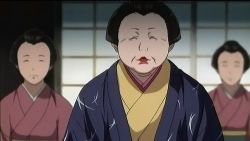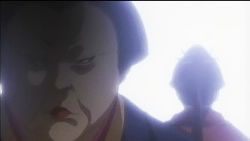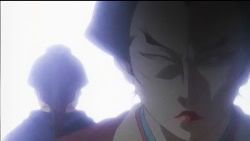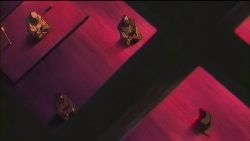 (previous synopsis from June 16, 2005)
So, it started out like this was going to just be a recap episode. And in a lot of ways, it was as it basically revolved around a meeting between the shogun and Hattori Hanzo and some other guys that I don't recognize.
Really dialogue heavy ep, which made it frustrating for me since I have NO idea what they're saying. I think I missed out on some important information, especially when someone was telling a story about a little boy and two women who obviously hated each other. Who was that little boy? Is this a story from the past? What does that boy and those two women have to do with the situation between the Kouga and the Iga today? I neeeeeeeeeeeeeed to knowwwwwwwwww.