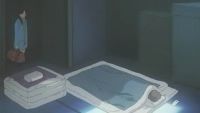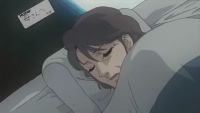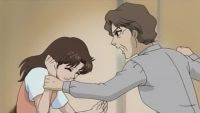 Tsukikage-san invites Maya to join the theatre company that she has started, but her mother refuses to let her go. She's incredibly upset, and thinks that she is only a burden to her mother and the people that she works with. She decides the only way that she can follow her dream is if she leaves the house. She runs away in the middle of the night, and lies to Tsukikage-san - telling her that her mother allowed her to come.
Maya's mother soon finds out where she is and bursts into the school on a rampage. She tries to force Maya to come back home. Tsukikage-san hears the old hag telling Maya that she's stupid and has "no good points", which causes her to go on her own rampage about nurturing the talent within the poor girl. She even slaps Maya's horrible mother in the face - huzzah!
Then Maya's mother threatens to throw a teakettle filled with hot water at Tsukikage to get her away from Maya. She expresses disbelief that Tsukikage would go all the way to stop her from taking Maya since she's not her real daughter and when it comes down to it anyone would protect choose themself instead of someone else. It's a standoff! Tsukikage refuses to budge. Maya's mother hurls the teakettle at her. Tsukikage turns to shield Maya from the scalding water and takes the kettle right in the back of the head. At this point Maya's mother realizes that her daughter is not going home with her and she leaves the school, defeated.
Dramarific! I loved it! You can clearly see all the reasons why Maya would choose Tsukikage over her own mother. This woman, who is practically still a stranger, is at least kind to her. She lifts Maya up, insteading of tearing her down. Hurray for the scary old lady who stalks little girls in the park!